Search Engine Optimisation
Organic growth for your business
SEO is about maintaining & improving the overall organic visibility of a website within a Search Engine to deliver new engaged visitors.
You don't want any old traffic - you want relevant traffic.
My Approach To SEO
Not every site needs an SEO Audit – sure, things can get complex on big e-commerce sites, but for 90% of sites out there just doing the right things works wonders. Google rewards sites that work well, are easy to navigate and have interesting, unique content. You can build a ton of links and have the world's fastest site, but if your content stinks you'll be in trouble. There are no shortcuts either, cheat and you'll get found out. The road back is a long one! What does work are these 'three fundamentals' you may have heard of.
Three SEO Fundamentals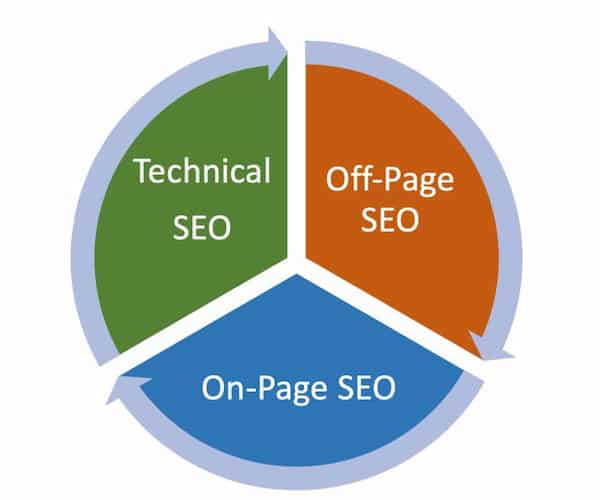 To be really successful with SEO, you need to get all three of these aspects working together. Note, also, how this is an ongoing process. SEO isn't a one-off process.
Technical SEO
Getting this piece of the SEO puzzle right is the first step toward better search results. More detailed items covered here are:
Crawlability & Indexation
Mobile Usability
Robots.txt validation
XML Sitemap testing
Website Speed
Off-Page SEO
When an SEO talks about "off-page" we tend to mean links to your site – some people refer to these as backlinks. These still play a huge part in Google's algorithm for ranking purposes. Some of the detailed items I work on here are:
Link Profile Assessment
Backlink History (for Penalty Analysis)
Competitive Analysis
New Link Building
Backlink Reclamation (mainly due to migration issues)
Citation Building For Local Businesses
On-Page SEO
If you think of SEO overall as a bowl of soup, the bowl is the structure (technical) and on-page SEO is really the soup itself. You control it and you can make it better by putting in the hard work to improve your content. Some of the detailed aspects covered here are:
Content Analysis
Duplicate Content Checks
Keyword Research
Internal Linking
Metadata Optimisation
Correct Use Of Header Tags
Image Optimisation
Schema Markup